Source: Afghanistan Analysts Network – By Fabrizio Foschini – April 1st 2020
At a time when Afghans face a looming pandemic and worsening conflict, one recent event has stood out: the attack on the Sikh gurdwara in the Old City of Kabul one week ago. It was an unprecedented, sectarian attack on a peaceful, non-Muslim religious minority. 26 people were killed and 11 wounded, men, women and one child. The Islamic State claimed the attack and the Taleban denied it, although some government officials have accused the Haqqani network of the Taleban of being responsible. Whoever was behind this massacre, it has raised concerns about the possibility of a new type of violence threatening this beleaguered country. Fabrizio Foschini considers both the attack and the fate of Afghanistan's fast-disappearing Hindu-Sikh community. 
For a detailed history of Afghan Hindus and Sikhs in Afghanistan, see our earlier report, 'The Other Fold of the Turban: Afghanistan's Hindus and Sikhs'.
The attack
On the morning of Wednesday 25 March at 7:45am the Old City of Kabul woke up to the familiar sound of shots and explosions, marking a fresh insurgent attack. The target was not a military or civilian government installation, but the Sikh gurdwara (temple) in the Shor Bazar neighbourhood.
The dharamsal of Shor Bazar is the main venue for public religious ceremonies for the Hindu and Sikh community in Kabul.[1] In Hindi, the word dharamsal refers generically to a resting place for pilgrims. People in Kabul probably started using it to differentiate the complex of buildings in Shor Bazar from two other buildings more specifically known as gurdwaras in Karte-ye Parwan and in Asmai Wat. Worshippers gather at the dharamsal from all over the capital and neighbouring provinces. The complex also includes a wing of rooms that are rented to short-term visitors and travellers, plus some families who have relocated from the rural areas to the capital in search of safety. Even at such an early hour, the gurdwara itself was packed with visitors, between 150 and 200 according to witnesses.
The strike followed the pattern of a number of complex attacks that have occurred in Kabul over the last 15 years. It is not completely clear yet how many operatives were involved: security forces and representatives of the Hindu-Sikh community initially claimed that a number of attackers, possibly three and wearing explosive vests, had entered the complex, while later government sources mentioned just one armed man – see media reports here and here.
The early morning hours are typically chosen by insurgent cells for launching such attacks. If they have entered the city's security cordons the night before, they will not want to tarry and risk being discovered by security forces. Early morning also represents the surest way to wreak havoc by disrupting traffic and normal business and blocking the city, especially if the attack takes place in a central location such as this one; in the grisly exercise of propaganda maximisation, there is also more damage and greater visibility. In the case of the gurdwara, the morning is also the time of highest numbers of visitors as it hosts a session of prayers. Target surveillance must have showed the terrorists that this was the best moment to attack in order to maximise the number of victims.
The death toll was indeed high, with 26 dead and 11 injured. Such a high ratio of dead to wounded points to the use of hand-carried weapons rather than explosives and gives the idea that the terrorist had a free hand in shooting down the victims at ease, at least during the early stages of the attack. The area was immediately cordoned off and a clearing operation carried out by the Afghan National Security Forces (ANSF) with the assistance of NATO troops. After approximately six hours, the operation was declared concluded with an announcement that one single attacker had been found among the dead.
Those killed and injured were almost all Sikhs, mainly men, but also seven women and one six-year old girl. One Muslim man was also killed. All were Afghan citizens except one, Tayan Singh, who held Indian citizenship. Among Sikhs, the words Kaur and Singh, respectively 'princess' and 'lion', follow the personal names of women and men. Those who were killed have been named as follows:
1. Baghat Singh
2. Nirmal Singh
3. Tayan Singh
4. Jagtar Singh
5. Parmeet Singh
6. Mon Singh
7. Kolvnder Singh
8. Surjeet Kaur
9. Iqbal Singh
10. Surjan Singh
11. Sardar Singh
12. Harjeet Kaur
13. Hardeet Singh
14. Jagtar Kaur
15. Tanya Kaur (child)
16. Kawaljeet Singh
17. Kultar Singh
18. Muhram Ali
19. Parmjeet Kaur
20. Jagander Singh
21. Shankar Singh
22. Jiwan Singh
23. Surila Kaur
24. Awtar Singh
25. Jai Kaur
26. Diljeet Kaur
Eight more women and three men were also injured in the attack, all of them Sikhs.
(Indian media later reported two Indian citizen from Ludhiana killed, Shankar Singh (who is in the above list) and Kishan Singh (who is not in the list) and put the total death toll at 27.)
The following day, a magnetic IED exploded near the crematorium during the funerals for those killed in the attack. One child was injured. It is not clear if this incident bears a correlation to the main attack.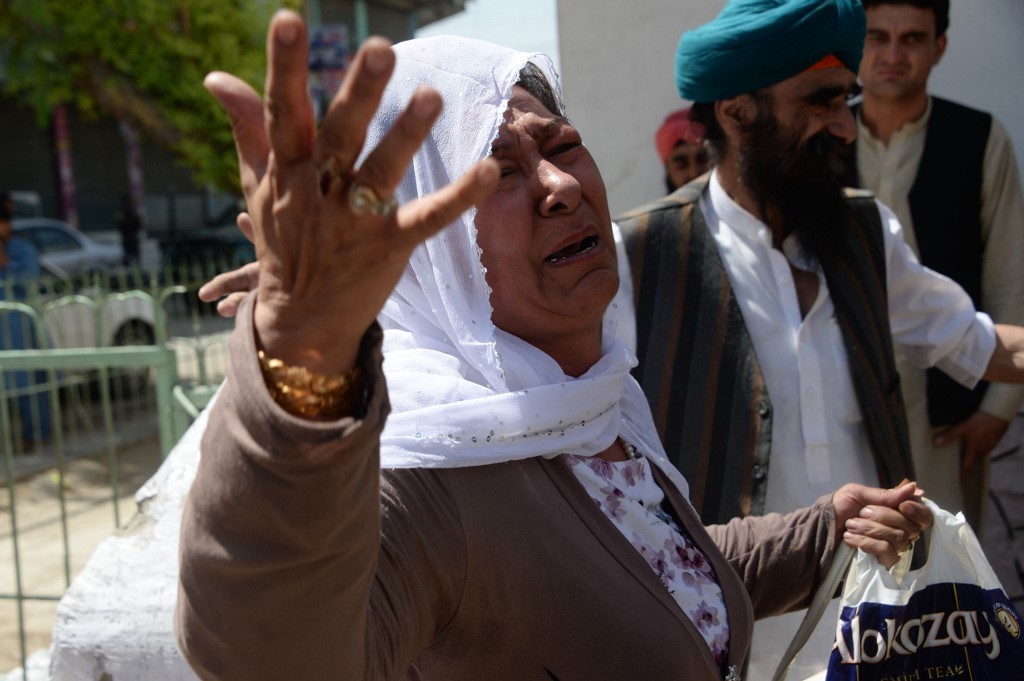 Who carried out the attack?
There have, fortunately, not been many attacks of this size against Afghanistan's Hindu and Sikh minority, so it is hard to compare the modus operandi this time with previous instances. The main, previous, major attack on the community was a suicide bombing that hit a motorcade carrying the Sikh parliamentary candidate Awtar Singh Khalsa when he was going to meet Ashraf Ghani during a visit by Ghani to Jalalabad in July 2018. The candidate himself and 16 other Hindus and Sikhs were among those killed. The attack was claimed by the Islamic State Khorasan Province (ISKP).
Again, the ISKP claimed the gurdwara attack, within a few hours, shortly after the Taleban had officially distanced themselves from it through their spokesperson. The body of the attacker has been identified as that of an Indian national from Kerala, one Muhammad Muhsin who was reported to have joined ISKP in 2018 with the name of Abu Khalid al-Hindi. ISKP of course, seems the most probable culprit, for both ideological and strategic reasons. Targeting religious minorities has always been part of their strategy in Afghanistan, with notable high profile attacks on Shia Muslims in Kabul and elsewhere (see AAN reporting here and here. Towards the end of 2019 they were almost completely wiped out from their stronghold in Nangrahar (AAN analysis here). On 14 March, the Taleban reportedly claimed it had also "cleared" ISKP from "the entire province of Kunar" after a two weeks' operation, with more than 100 fighters surrendering (and some more to the ANSF) while 100 more had fled.
Given the impossibility of stably re-occupying territory, they could be expected to resort to other tactics to make their mark on the conflict season of 2020.
Some Afghan security officers have pointed to the Haqqani network (and Indian sources additionally to Pakistani outfit Lashkar-e Taiba) as being behind the attack, however. It would certainly have been possible for them to have conducted it, although the softness of the target and limited number of attackers and weapons would not have required the expertise and capacity which the Haqqanis are capable of deploying. It is possible the group wanted to carry on conducting high profile urban attacks, possibly to keep their more extremist backers happy, but without being seen to brazenly breach what appears to be a Taleban understanding with the US not to carry out such attacks (see detail by AAN here). If this was the Haqqanis operating under a 'false flag', then the target would be ideal; the Sikh gurdwara was a soft, civilian, sectarian target, hosting a gathering of unprotected Afghans of the sort ISKP has killed in the past.
There is, however, an ambiguity revolving around the targeting of religious minorities in a conflict like Afghanistan's that makes it difficult to exclude any hypothesis. Religious minorities in any country always represent soft targets not only because of their visibility, lack of military power and often, lack of social and political strength. Attackers can also try to tap into their supposed 'otherness'. In a country that has seen the involvement in its conflict of multiple international actors, including almost all its neighbours, minorities run the risk of being linked to this or that foreign power. This false reasoning, that the minority as a whole, civilians and even children included, is a threat and a legitimate target may resonate with at least some fringes of the public. This can still be the case even though after this attack, at least in the media and on social media, there appeared only to be general sympathy with and horror at what had happened to this peaceful, vulnerable community.
The Afghan Hindus and Sikhs are, by far, the least politicised of the Afghan communities. Nor could it have been any different in a country where they are a tiny and unarmed group in a political climate that hardly tolerates any organisation without strong Muslim political credentials.[2] However, groups who are interested in playing up sectarian hatred and the violent confrontation between Muslims and other religious groups in south Asia could have taken notice of their existence – and added them to their target list. Regionally, targeting Afghanistan's small Sikh and Hindu community may make sense to religious fanatics. The claim by the Islamic State, for example, mentioned Indian repression of the Kashmir Muslims as the reason for the attack.
The attacked
Despite the high tide of political-religious militancy in Afghanistan, almost no Afghan government or political group has indulged in openly discriminating or abusing the only recognised non-Muslim minority of the country.[3] However, as is often the case with minorities, the Afghan Hindus and Sikhs have felt the impact of four decades of war in a very severe way, and nowadays their very existence in the country is threatened.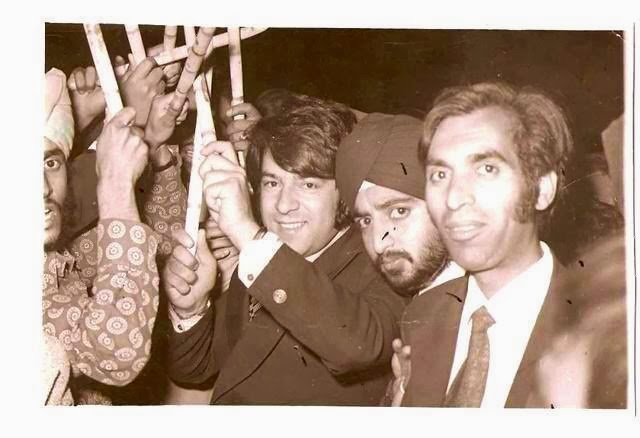 Massive relocations of members have taken place at different times. The first exodus was in the 1990s, when mujahedin factions fought over Kabul and there was some targeting of the community:[4] several thousand Hindus and Sikhs left for Europe (mostly Germany) or India. Others followed during the years of Taleban rule and more recently, in the face of the never-ending insurgency. The community is by now just a tiny fraction of what it used to be. (The Indian Embassy in Kabul said in 2006 that there had been some 100,000 Hindus and Sikhs in Afghanistan in 1985. It estimated the figure was down to circa 2,000 by 2006, 80 per cent of them Sikhs and 20 per cent of them Hindus, with 800 living in Kabul, 400 in Ghazni and the remainders scattered over the rest of the country.) Despite the difficulty of estimating populations, in Afghanistan in general and in particular of a community which is largely transient, with many households who relocated abroad sending back to Afghanistan only their bread-winners in order to manage their erstwhile business, it seems realistic to infer that only a few hundred families – or possibly even fewer than a hundred – remain in the country.
There has never been a widespread feeling of hatred, contempt or rancour directed at this particular community among the Afghan population at large, at least in Kabul and other major cities. However, the decades of conflict have increased occasions for communal clashes. Such was the case in 2012, when new settlers to the Qalacha area in southern Kabul contested the age-old presence of the Hindu and Sikh crematorium there. Many Hindu and Sikh businessmen, once to be found in any decently-sized bazaar of the country, have had to leave the provinces, where they were particularly exposed to the vagaries of war and criminality, to relocate to the cities. Nowadays, they are to be found mostly in Kabul, Ghazni and Jalalabad.
In these last redoubts, the Afghan Hindus and Sikhs are threatened by economic stagnation, uncertainty about the future and criminality. This is the same as the rest of the population, but with some differences. Because of their perceived affluence – as tradesmen or moneylenders – and their lack of protection and political connections, they are severely hit by the wave of criminality. Last month, a Hindu woman was brutally stabbed to death after being robbed in her house in Karte-ye Parwan of Kabul where she had just returned from India.
In May 2019, a young Sikh man was kidnapped and later killed. His body was found by the police and buried without trying to contact his family. This was despite his disappearance having been announced and his religious identity being plainly visible. The neglect displayed on this occasion by the security forces could hide something more dangerous: as a recent and detailed study of the Hindu-Sikh community showed, its members report frequent targeting by policemen looking for bribes. They also complain of discrimination in court cases and educational facilities. Indeed, this once prosperous community is nowadays lagging behind in educational indicators and losing its past affluence.
Apart from specific targeting and vulnerability, against the backdrop of the country's bleak economic situation, many Afghan Hindus and Sikhs are simply trying to relocate abroad to survive. Again, this is also the case for a significant portion of the Afghan people, but members of this religious minority are able benefit from specific incentives to leave. A recent (and controversial) Indian law, for example offers to facilitate residence and citizenship to all non-Muslim refugees from neighbouring countries, that is Pakistan, Bangladesh and Afghanistan. Other countries, such as Canada, as well, have specifically targeted Afghan Hindus and Sikhs as legitimate claimants for asylum, at a moment when the world is turning its back on Afghan asylum seekers in general.
The vestiges of the ancient presence of Hindus and Sikhs in Afghanistan's landscape and culture will not be washed away easily, but the potential extinction of such a once-thriving community is a dark prospect. If nothing else, all Afghans should be worried by the thinning ranks of their Hindu and Sikh compatriots, as the phenomenon is a clear pointer to a general decline of the country's fortunes. In a way, this enterprising and peaceful community can aptly serve as an indicator of the economic and social health of Afghanistan, as a whole. If it were to disappear, the country would not only lose an irreplaceable piece of its history and social fabric. Afghan bazaars without the occasional Sikh wearing their distinctive turban would be poorer, in economic and human terms, and the hope of a prosperous and peaceful future Afghanistan would appear more distant than ever.
Edited by Kate Clark and Thomas Ruttig
---
[1] Despite having separate histories, Afghan Hindus and Sikhs are nowadays usually referred to as a single community, and indeed they share places of worship, an elected MP in the parliament and a place in society. The Hindu presence in the country dates back to the pre-Islamic period: Kabul, for example, was the seat of a dynasty of Hindu rulers between 9th and 11th century. After the Muslim conquest and conversion of most people in the territories making up modern Afghanistan, other Hindus moved to Afghanistan in various capacities, from slaves to governors. However, the current community originates mainly from merchants and public servant whose destinies were closely intertwined with the Afghan state since its inception in mid-18th century.
Sikhs, on the other hand, have a long history of neighbourly relations with the Afghans, as trade (and sometimes conflict) between Punjab and the Afghan highlands rarely stopped. They probably constitute by now the majority among the Hindu-Sikh community.
The label Hindu-Sikh community does not only serve for brevity purposes or accounts for their common treatment by the Afghan constitution. Surrounded by, and at junctures rather isolated among a Muslim majority, the two communities started to share devotional places and, to some extent, practices at least from the early 20th century, with some mixed marriages reportedly taking place. This attracted the attention of the reformist religious society Arya Samaj of India, who in the 1910s tried to extend its preaching to Kabul in order to mend the 'heterodox' ways of the Hindus there. Back then, on the Sikh side as well, there were attempts to set limits to the intermingling of the two groups. However, in the last decades, in the face of their decreasing numbers and increasing dangers, the bonds of unity seem to have grown ever stronger.
[2] A notable exception to this rule was the decade of Amanullah's reign (1919-1929), when they played a more proactive role. One Ranji Das reportedly served as finance minister. However, their political efforts were mostly state-driven and directed outwards, ie support for the Indian anti-colonial struggle. Indeed, the most prominent characters were Hindu or Sikh exiles from British-controlled territories (more here).
[3] In 2001, there were widespread reports (see for example cited here) about a Taleban edict, decreeing that Hindus should wear a distinctive yellow badge, or stripe of fabric, on their clothes in order to be recognised. When there was an international outcry, the Taleban reportedly said this measure was to protect them from being bothered by the religious police who, at that time, implemented strict measures about clothing, wearing beards and attending prayer at prayer times. (The Sikhs were recognised by the style of their turbans.) According to one AAN co-director working for the UNSMA mission in Kabul at that time, who had been tasked to contact the Hindu and Sikh communities and visited their three major temples in the city , this edict – if it ever existed in this form – was not implemented. Sikh and Hindu community representatives in Kabul professed no knowledge about it, and there were no Hindus visibly wearing the yellow badge. There were later reports that such an edict might have been issued by ulema in Kandahar and, if at all, locally implemented for a short time.
[4] The UN's 2004 Conflict Mapping Report describes "some opportunistic attacks on minorities, particularly Hindus and Sikhs" after 1992 and says
[T]hese increased dramatically after the December 1992 attack on the Babri Masjid in Ayodhya, India, by Hindu militants and subsequent riots in Bombay and other cities, during which hundreds of Indian Muslims were killed. In Afghanistan, some mullahs preached about the incident in the mosque, leading to attacks against Hindus and Sikhs. The mullahs portrayed these attacks as jihad against those who had attacked Muslims. Many Afghan Hindus and Sikhs fled the country as a result, leaving behind their land, homes, and businesses. They claimed that mujahidin and militia factions had held family members for ransom, killing some; occupied their homes; seized their belongings; and looted and ransacked their businesses. The attacks occurred in Kabul, Jalalabad, and Qandahar, among other places.
The report also says in 1992, unidentified armed groups attacked Hindu and Sikh residents of Kabul. It said that, according to reports received by the United Nations Special Rapporteur, "family members were held hostage for ransom or murdered indiscriminately, female family members were allegedly raped, their homes were occupied, their belongings were seized, and their businesses were looted and ransacked."