Shivani Bhakoo & Gurvinder Singh
Ludhiana, July 8
There are about 25 Afghan Sikh families in city, who left Afghanistan about a decade back just because they were not "safe" in the war-torn country. They feel reluctant to talk to media initially and their only concern is that Indian government should provide them citizenship, housing and basic facilities so that they live life peacefully.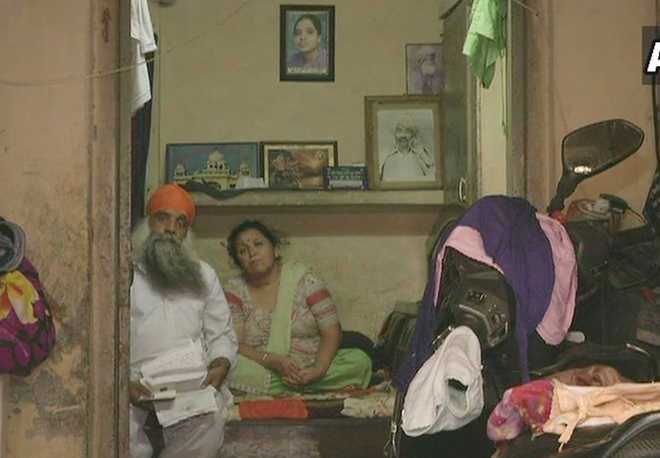 A Sikh family that came from Afghanistan few years ago and is presently living in Ludhiana. — ANI
Narrating her tale of woes, Kulwant Kaur, a widow, said that she had come to India about eight years back with her son and daughter while her husband was killed by militants in Afghanistan. "We are living in penury, still we feel safe here. Come what may, we are not going back to that country again. I work as a domestic helper. Government should provide us with job and other basic facilities," she said.
Another family, on the condition of anonymity said they were "tortured" in Afghanistan.
The women were not safe at all. "Here, at times we get the daily food from a gurdwara. Some of us are daily wagers while some other drive auto-rickshaw or are rickshaw-pullers. We have our passports, other documents, etc. Realising our plight, the state and Central government should support us," said another Sikh, wishing not to be quoted.
Shammi Singh (54) lives in a rented dilapidated house in a narrow lane of Chawni Mohalla. The two-room house without a kitchen has one bed, which has accommodated the family of six, depicting the condition the family now lives in.
Due to increasingly hostile environment for Sikhs in Afghanistan, he along with other families had to come to India in 2012. As a youth, he never imagined having to leave Kabul. "Earlier, there used to be around 1.8 lakh Sikh families in Afghanistan and there was no discrimination on the basis of religion. A significant proportion of trade was in the hands of Sikhs and Hindus.
"We used to celebrate Baisakhi in a grand way and Sikhs from Kabul, Jalalabad and other cities used to participate in the celebrations and Afghan Muslims used to invite us for Eid," he says.
But things started changing gradually, forcing Sikhs to leave. The situation has turned worst since 2008 with Sikhs being called out as 'Qafirs', he says. "They even started objecting to the way we cremated our dead by consigning them to flames and wanted burial," he adds.
Many families, including his, managed to come to India in 2006.
But it is not just the financial travails that worry them, the government has still not granted them citizenship. A constant fear of being thrown out of the house always lurks around.
Pleas of financial help to religious bodies and administration have yielded little and nobody comes forward to help, he says. "We request the government to give Sikhs who have come from Afghanistan citizenship and accommodation because we are struggling not just every day, but every hour," he says.
Former SGPC president Avtar Singh Makkar had extended help to these families. Makkar said two of the families were even provided with entire expenses to go back to Afghanistan as they wanted that. "The issue needs to be addressed by government. We on our own part can provide them food and other financial help at times but that is not a permanent solution. They are the responsibility of government and it should take care of them. Besides, SGPC should also provide them financial assistance," said Makkar.